Review: Holy Trainer v4 Chastity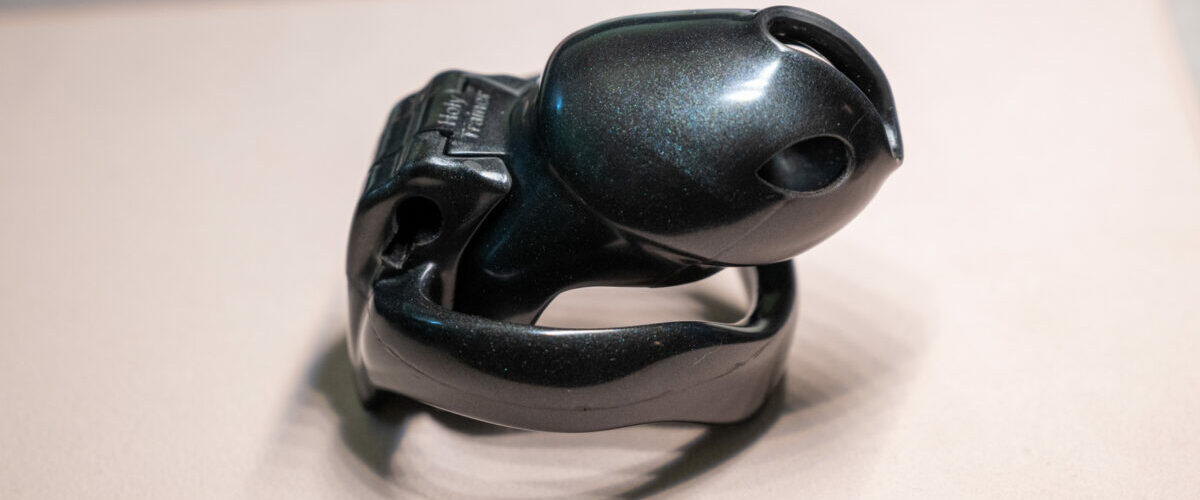 I have been using the Holy Trainer devices almost exclusively for the past couple of years. They sent me the Holy Trainer v3 for review, along with the shorter tubes (short, nano, and the nub). I have always thought that the Holy Trainer chastity devices are the best that exist on the market. Well, aside from bespoke devices like Mature Metal.
Now, I did take a long blogging break in the past couple of months [or years]. We had the whole pandemic. The whole opening-a-new-business. The whole suffering with the weight of a business during a pandemic. You know, the usual. I'm back to review the Holy Trainer v4, the newest in their line of chastity devices. So far, having used it for a bit, just weeks here and there on and off, I'm very impressed. I think it is the best chastity device in my collection so far.
I received the Holy Trainer v4 free of charge for the purposes of reviewing it. This fact does not change nor sway my opinions.
First Impressions
It's a very similar device compared to the previous generations. At this point, there are smaller refinements to the device as compared to v3. Unless you are specifically looking for differences, it might be very hard to spot any. The tip of the device has its pee-hole(??) bent a bit outwards, I assume to prevent any pain to uncut penis-owners. If part of the foreskin were to stick out.
The single biggest upgrade in this series is the retaining ring. Finally, the best upgrade. This ring is flat, as opposed to the round rings as seen on all previous generations. This flat ring is a gamechanger! It doesn't dig in as much as the round v3 ring. This fact means that this chastity device can now be worn for even longer periods of time. I have always seen the Holy Trainer as a long-term device. My record wearing it non-stop is 14 days. Maybe… I can go for longer with the v4?
Cost
The average going price for these off-the-shelf devices is above $130 but below $180. With a rock-solid build quality, you are definitely getting your money's worth.
My Experience
Unfortunately, the Holy Trainer is not a one-size-fits-all. There are a set number of tubes and a set number of rings. You do have to choose the correct tube and ring, check out their sizing guide.
It's just too comfortable.
There are times when I forget I have it on. Really. It gets very comfortable when wearing for long periods of time. The previous fatal flaw has always been the retaining ring. It usually would get uncomfortable pretty quickly because it digs into the skin a bit. But now…the flatter ring is magnitudes better.
Have I ever mentioned how great it is to take a shower while caged in chastity? As it is a closed tube, you absolutely must take it off every couple of days and do a full cleaning of the device and your penis. It's a requirement to sit down to pee. It's just very difficult to align the urethra with the opening of the device. Because of this, make sure to clean the Holy Trainer often if you are going to be wearing it for long periods of time.
A couple of days is all I've gone so far with this device. Now with things opening back up and my life becoming a lot less stressful, I'm looking forward to pushing myself to see how far I can get. It's always been a fantasy to be permanently locked, now it's just a matter of seeing how far my partner can push me.
Conclusion (tl;dr)
The Holy Trainer remains my number one choice for the best long-term chastity device. The flatter ring means that it will not dig in as much as the previous generations. I wish that the ring could somehow be retrofitted and have some sort of "universal-fit" that can fit with other devices. I almost forgot to mention just how discreet this is—no one can tell you're wearing a chastity device from the outside. No matter how tight your clothes are.
Where to Buy
Holy Trainer Shop