Review: bVibe Snug Plug 4
This has to be, one of my new favorite butt plugs ever. There are two main different types of butt plugs: those that stretch, and those that make you feel full. Of course, there are hybrids, but those are the two main aspects of a butt plug. This one does not stretch you out, but it does keep you full, and the narrow neck means that you can wear it for a long time.
This toy was provided to me free of charge for review purposes by LuvToyz.com (now defunct). This fact does not sway my opinion in any other way.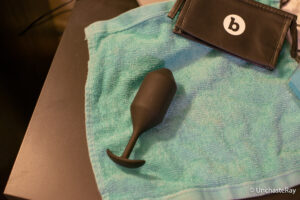 First Impressions
When I first got into researching butt plugs [many years ago], I learned about the two types: stretching and filling. Personally, I like to wear butt plugs that can be worn for a long time without much discomfort. For the ideal plug of this kind, I would have to have a plug with a thin neck and a large bulb. At the time that I did my research, there was only a small handful on the market. One of the "best" was one made out of unsafe materials—an aluminum bulb, but a latex neck. The bulb and the neck of this "amazing" plug separated, but that just meant that it had tons of areas where bacteria could hide and avoid being completely sanitized.
When I first discovered that bVibe had created a new toy that was able to be used for extended periods of time, I knew that this could be The One. The best butt plug there is. I already know that the best butt plug for long-term wear right now is the Njoy Pure Plug XL. That toy is metal, compatible with silicone lube, and weighty.
But this? It is weighty. And much more economical than the Njoy toys. The bVibe website says that the weights inside of the toy amount to 257 grams, which's about more than half a pound. Just by having weights, this plug is already better than any other silicone plug on the market. For users with a prostate, having a heavy toy means that the toy will give stimulation for every step you take. This toy in specific has the weights jiggle around if you move it. It reminds me of those ben-wa balls that have weights that move around.
This butt plug comes with a little storage case and a guide to anal play. Both the user manual and the Guide to Anal Play are amazingly well written. They have useful diagrams and seem to be extremely helpful for those beginners barely venturing out into anal play.
My first reactions were that this would probably be my new favorite plug. Or at least top three.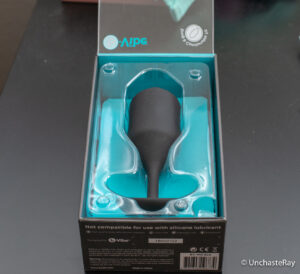 My Experience
This plug is amazing. Once it is inside, you don't really feel it. It fills you, but you're not stretched. It is comfortable. I find this fact surprising, as it's usually metal toys that are only comfortable for me long term. This has to be one of the few silicone toys that I own that are comfortable in long-term use.
I wore this for quite a while, almost all day; and it's hard to remember that you have it in. The best thing ever is the fact that the base of the plug does not feel uncomfortable. The fault of many plugs is the issue that the base digs into your buttocks or it chafes after wearing it for a while. You can literally walk around and go to the store while wearing it—no one will ever know that you're secretly wearing a butt plug.
A warning to keep in mind, this plug is huge. Well, it feels that way. The diameter of the Snug Plug 4 is 1.77″ (45mm). I really have to warm up every single time I use this toy. As I put it in, I start to stretch myself hard, but once it's in, I go back to normal and I don't feel stretched like other toys.
With this plug, there is absolutely no fear of it slipping out. My experience with other toys is that after some time, I relax so much, that the toy threatens to slip out.
Conclusion (tl;dr)
Buy it. If you want a long-term use butt plug, the bVibe Snug Plug is the toy to get. Silicone means that it's able to be sanitized. The narrow neck will not stretch out your anus too much, which is a great thing. Wear it around public, and no one will know that you have it.
Where to Buy