Getting fitted at Folsom Street Fair 2023 with Kink3D
I have always had a feeling that my sizing for my chastity cages were slightly off. For the longest time, my go-to cage was the Holy Trainer, and now the Kink3D Cobra. They've been very comfortable wearing long term. But I've always felt like I could chase the last 5% of comfort. When Kink3D announced that they were doing in-person fittings at Folsom Street Fair, I knew I had to go.
I've heard so much about Folsom Street Fair for so many years, but never had the opportunity to actually go. This year, we finally made it happen.
We arrived at Folsom early at around 11. The official schedule is 11 am to 6 pm. This early in the day, it was not full at all. The streets were empty, and very few people were there. It was easy to get around the fair. Good thing too, there were so many booths to see. Vendors who had hand-made impact instruments, hand-made silicone toys, pins & stickers. Oh and of course, lots of cocks out. Many of the fair-goers were topless, bottomless, or everything-less. I do admit that I felt out of place in normal clothes where there were so many people in chaps, rope harnesses, just underwear, or completely naked.
Within an hour, the streets got ridiculously packed. Getting from one booth to the next felt like it took forever. Aside from just there being tons of people, everyone was respectful and kept their distance from one another. At no point did anyone push up against others or touched anyone else.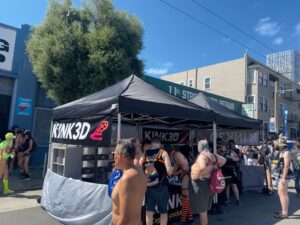 Kink3D
Part of the main reason as to why we wanted to go to Folsom was because of Kink3D. Everyone that knows me, knows that the Kink3D Cobra is my absolute favorite chastity cage of all time. When Kink3D announced that they were going to do in-person fittings, I knew that I had to make my way to Folsom. I saw this as an opportunity to meet the Kink3D team and get a fitting done by them.
Saying I was shy is a bit of an understatement. My partner had to hype me up to build up the courage to show off my cock in front of someone else. "If you do the fitting, I'll buy you whichever cage you want," she said. It's not something I have ever done before. The Kink3D booth was open, so anyone walking by could see the people getting fitted. Lots of people ended up walking by looking in! So yes, I had to get rid of my nervousness and shyness to get fitted. I lined up, and awaited my turn.
When it was my turn, Paul helped me get fitted. "Show me what I'm working with," Paul said. There was the entire set of all Cobra cage and ring sizes out on display. Paul inspected me for a good minute, then gave me a ring and a cage to try out. "Try these first." I put on the ring first, then the cage, and showed it off to Paul. "Looks almost good, but look at the ring. It's slipping off." Right then and there, I knew that I needed this fitting last year. This whole time, I was wearing the wrong size ring. Paul handed me the next size down and I tried it on. It was a bit harder to put on. After installation, I showed Paul and he confirmed that it was the correct fit.
From there, we talked a bit if the N+ narrow would be a better fit, or the N standard would [or maybe a theoretical N narrow, if it existed]. We came to the conclusion that I would roll with what I currently have, then later re-evaluate to see if I needed to size down. Paul wrote down my measurements on a Kink3D card. "You can take this card to checkout and buy your cage here, or buy it online too." So of course, I bought the correct size ring: #2. My partner says she'll buy me a new cage if I get through Locktober.
Fit is important
I've been wearing chastity cages for some years now. Ever since I've discovered my favorite chastity cage, I've really only been using that. This entire time, my sizing wasn't 100% exact. I knew I had some fitment issues when at times, I felt my self escape from the cage after days of wearing it. The better the fit, the more comfortable over time.
My goal is to be locked for long periods of time. The best way to accomplish this is to be completely comfortable the entire time I am caged. The more uncomfortable one is, the less likely they'd want to keep the cage on.
I think anyone who wants to get into chastity should get fitted professionally. I would definitely like to see Kink3D do more in-person fittings. It may not be the most logistically realistic, but it can eventually happen I hope. I'm from Los Angeles, and I don't think there are any local shops that carry Kink3D products.
Thank you to everyone at Kink3D, and especially Paul, for helping me find my fit. I was a bit shy, so I didn't truly introduce myself. I am truly excited to see what comes next at Kink3D.